[cs_element_section _id="2″ ][cs_element_row _id="2″ ][cs_element_column _id="3″ 1-2]
Is your marketing up to scratch?
Stand out from the crowd with our range of promotional materials.
If your business or organisation regularly attends industry events, or to brighten up your reception you'll need something colourful and slick to grab their attention. Pull Up Banners do just that.
Pull Up Banner stands can have a huge impact on your marketing needs if used effectively. They are a great tool for giving customers a brief insight into a product or service that your business may offer.
Order an affordable high quality Pull Up Banner and receive a FREE carry case. Get your banner today for just…
£199.99 + Vat
With our full promotional bundle we will get you ready for any event. In addition to a Pull Up Banner and carry case, you will also get 250 leaflets PLUS 250 business cards! Get your full promotional bundle today for just…
£499.99 + Vat
To place an order or find out more, fill out the form, call us on 0113 8871 565 or email artwork@wholeinonegolf.co.uk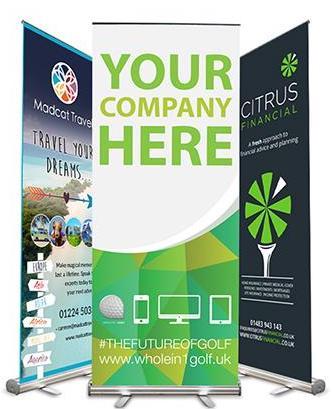 [/cs_element_column] [/cs_element_row] [/cs_element_section]