[cs_element_section _id="1″ ][cs_element_row _id="2″ ][cs_element_column _id="3″ 1-2]
Promote Your Business from just £10 per week and get Complimentary golf worth up to £4,000
Whether you're a golfer, a keen networker or looking to promote your business Whole In 1 Golf has a solution for you.
We are a UK based golf technology company with a portfolio of circa 400 golf courses and resorts throughout the UK and Ireland with clients including Sky Sports and Q Hotels.
Our business model is simple yet completely unique – we develop a 3D flyover and GPS system of the venue and each hole using the latest technology and software. This is easily accessed by the golfer on a number of multi-media platforms such as mobile applications, in-cart iPads, the club's website and in-house LCD TVs. All of this equipment is provided completely free of charge to the club.
In return, the club provides us with a limited number of sponsorship packages for our corporate partners, which include:
Your ads on the 3D flyover on our mobile app and in-cart iPads
Your ads on the golf club website and clubhouse TVs
Unlimited free networking at our corporate golf days
Monthly push notifications to promote your latest special offer to 1,000's of our members via the mobile app
Complimentary golf worth up to £4,000 to use or give away as you choose – an employee incentive, or to entertain customers
All of this is available from just £10 per week, depending on the club, for a 2 year sponsorship package with a range of easy payment options.
To find out more about becoming a corporate sponsor at your local golf club, give us a call on 0113 4672 945, or fill out the form and we'll get back to you as soon as possible.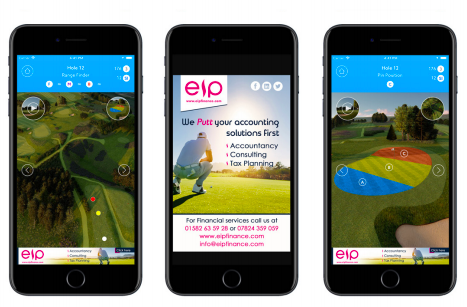 [/cs_element_column] [/cs_element_row] [/cs_element_section]