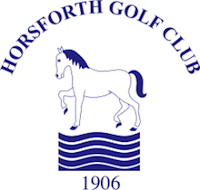 Situated 6 miles outside of Leeds city centre, Horsforth Golf Club is widely recognised in Yorkshire as a classic course. Designed by Dr Alistair McKenzie, the course combines some clever and devilish short holes with some more substantial challenges.
We managed to catch up with Simon Lax, Manager of Horsforth Golf Club.
James: Tell me a bit about Horsforth Golf Club?
Simon: We are an 18-hole Dr Alistair Mackenzie designed venue boasting a mixture of parkland and moorland situated 6 miles NW of Leeds City Centre.
As a club we have a thriving membership of over 700 with men's, ladies, rabbits and junior sections and we attract approx. 5,000 visitor rounds per year.
We can cater for many different types of events including weddings, funerals, engagements, birthdays and christenings etc which form a major part of our business to the extent that we are completely booked up for events every Saturday for the rest of this calendar year.
We also host a number of networking groups including the regular Whole In 1 Golf events which bring a mixture of existing business owners affiliated to our club and from the wider Leeds business community as a whole
James: How do you attract new golfers or members of the wider community to play or use your facilities?   
Simon: I don't have an advertising or marketing budget, so we attract new business predominately by word of mouth. To do this we always ensure any golfer, visitor or guest receives a warm welcome, so they want to come back and play again or use our facilities. I work really closely with our two-golf pro's, Simon and Dean, who provide a great "front of house" service and experience to anyone playing a round. We have a healthy membership base, but we are always open to people wanting to join of any age and ability.
James: What changes are you planning at the club?
Simon: We have recently refurbished the locker rooms which we are really pleased with and there are plans to enhance the practice area. We are also replacing all the tables and chairs in our lounge too, so we are always looking, and considering, ways to improve both the course and clubhouse.
James: Getting junior golfers into the game is hard. Tell me about your junior section at the club?
Simon: Yes, it is, and we have 30 juniors with a mixture of both boys and girls. We allow them free play up to the age of 18 and one of the strongest set-ups in Leeds where we narrowly missed out on winning the league last year.
James: How has working with Whole In 1 Golf benefited the club?
Simon: We have a great flyover which provides an accurate representation of our course and they have helped attract many new businesses into the club. A great deal of these businesses has requested golf days which we are only too happy to accommodate for obvious reasons.
James: What's the future for the club?
Simon: Quite simply to continue to provide an excellent experience for golfers and non-golfers alike when they visit and improve the course and our facilities over time. 
To find out more information on Horsforth Golf Club and how to join please visit the website – Click here