Where business, do business
One of the amazing features of your Corporate Golf Advertising Package with Whole In 1 Golf is the ability to attend all the Business Networking Events that we host all over the UK and Ireland, at some stunning venues.
Most of our events that we host at some very prestigious golf club come with a complimentary round of golf afterwards, so you can continue the networking out on the course afterwards. As you may have seen on last month's newsletter, the Whole In 1 Golf Network have also invaded the busy city centre locations too with the introduction of our 'After Office Hours' networking events; which don't come short of a good laugh and a drink or two!
As per the above, it is clear to see that the Whole In 1 Golf Business Network is bigger than ever before, and we want all the businesses that take advantage of these to do business with each other.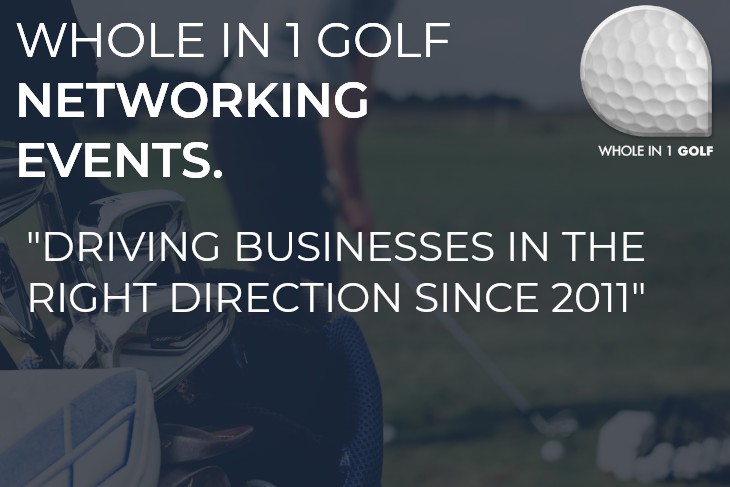 So, without further ado… here are our top 5 tips to make our networking events work for you!
Research the attendees and guest speakers before you attend the event- Researching the attendees before the event will give you a good understanding of who you might wish to speak with at the event, and already having a good knowledge of which of your products or services that you offer might be relevant to each attendee. By researching the guest speaker, it allows you to gain an interest in what they're about and how they might be able to help you out.
Build genuine connections – Yes, you may already know people in attendance at the event… but one of the main aims of networking is to build up your connection base. So, don't sit in on the table full of people that you already know! Networking is much more successful when new relationships and genuine connections are built. Sit down and have a chat with businesses that you haven't been introduced to before.
Become a known resource for referrals- There is no better feeling at networking than being the 'go-to-guy' or the 'woman who can' when it comes to referrals. But, how can you do this? Simple. Be a business card collector rather than a business card giver! Doing this helps build and maintain a good relationship down the line. For example, if someone from the previous event can't attend the next one; give out their details if you feel as if they might be able to help one of the attendees.
Attend as many events as you possibly can! Becoming a regular face at networking makes you become well known across the Whole In 1 Network, forging good relationships with other businesses and maximising the potential to do more business.
Finally… Smile, be happy and approachable, and networking WILL work for you. Doing business with a smile on your face goes a lot further than taking the usual formal, corporate approach to proceedings- especially when you want to give off the right first impressions to potential new business connections.